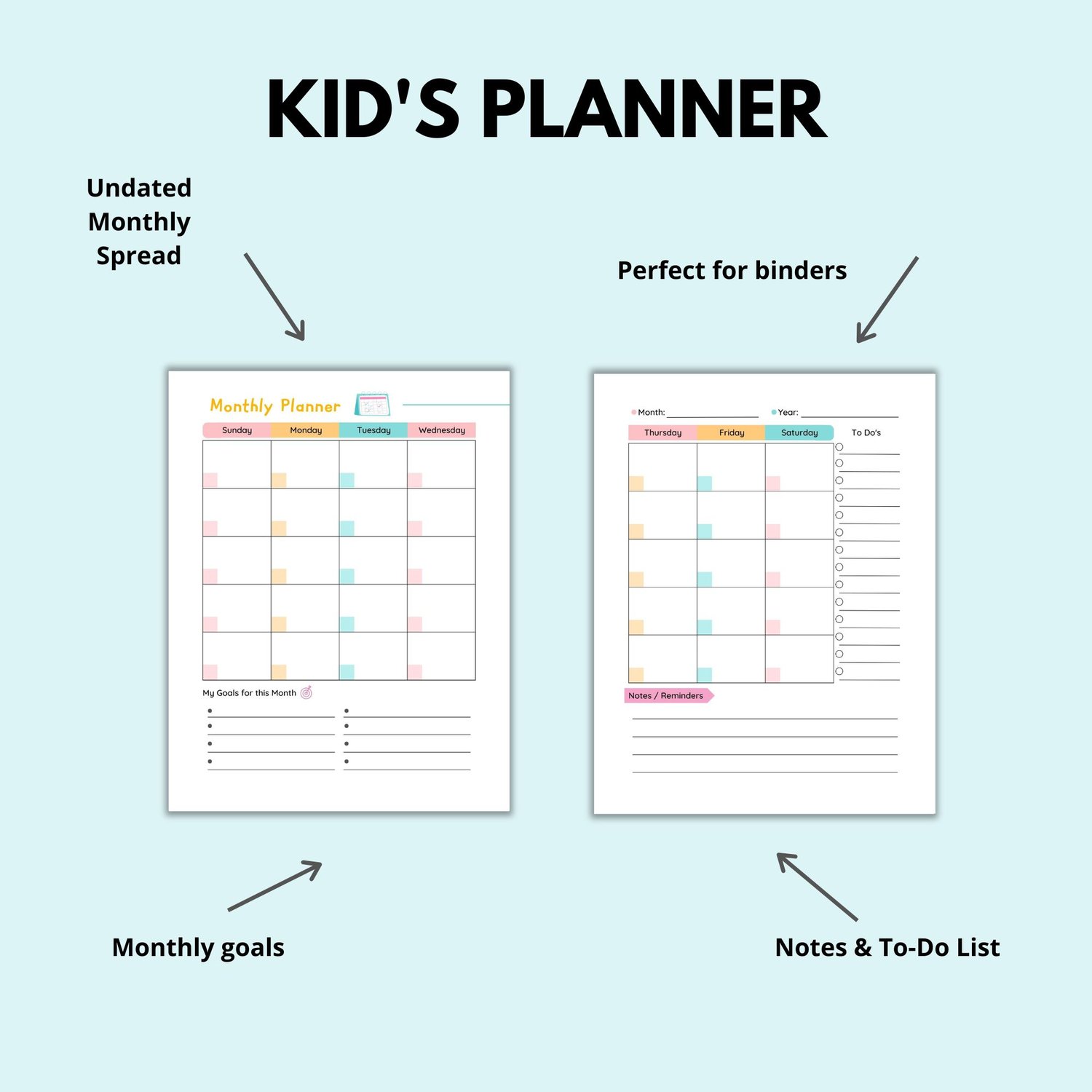 Ultimate Kid's Planner
Introducing the Ultimate Kids Planner - a comprehensive, fun, and easy-to-use printable tool designed to help kids master the art of organization, planning, and personal growth. This 50-page planner is perfect for helping your child navigate the daily intricacies of their world, one fun page at a time!
Incorporating everything from a spending tracker to a sleep tracker, this planner is designed to teach essential life skills subtly while keeping it entertaining and enjoyable. Your child will be able to brainstorm ideas, track their mood, plan birthday parties, create travel bucket lists, and more with the engaging and user-friendly pages included.
The Ultimate Kids Planner also includes a place to keep a reading list and a unique book review section, perfect for encouraging and tracking literary exploration. There's also an 'all about my pet' section for those special furry (or scaly, or feathery) friends in their life.
For the young scholars, our planner comes equipped with a class schedule page, a homework tracker, and daily, weekly, and monthly pages to keep on top of their academic responsibilities. The year-at-a-glance page is handy for a quick peek into the year's major events, holidays, and personal milestones.
The Ultimate Kids Planner is more than just a planner - it's a canvas for your child's ideas, goals, and dreams. It is an excellent tool for encouraging self-management skills early on, fostering a sense of responsibility, and stimulating creativity.
This planner is designed as a printable in standard 8.5" x 11" size, giving you the flexibility to print it at home and use immediately. It's an eco-friendly, cost-effective, and practical way to start planning. Print your favorite pages multiple times!
Please note: This is a digital product. Upon purchase, you will receive a PDF file ready to print. No physical product will be shipped.
Equip your child with the Ultimate Kids Planner today! Watch as they enjoy filling it out while developing valuable life skills along the way. Ready, set, plan!